Career Development

---
Program Elements

TRANSFORM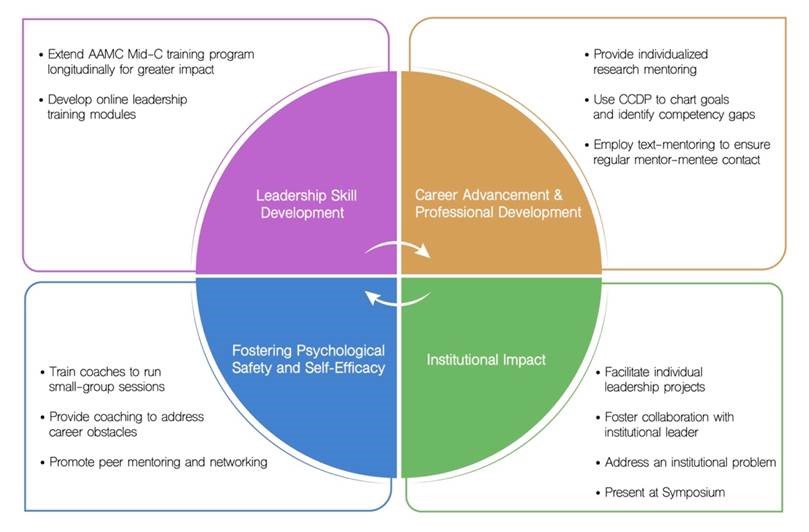 ---

Leadership Skill Development
TRANSFORM leadership modules will build on and explore deeper the leadership concepts offered at the AAMC Mid-C leadership seminar
Topics include:

Navigating Academia as an Under-Represented Faculty Member
Nurturing Your Well-Being
Strengths-Based Leadership
Strategic Career Planning
Building National Visibility by Leveraging Social Capital
Career and Resource Sustainability

Online Modules will draw extensively on the lived experience, knowledge, and culture of participants and will employ a mix of synchronous and asynchronous learning opportunities

Career Advancement & Professional Development
Scholars will be matched with a mentor who has appropriate areas of expertise and experience. The mentor will help the scholar address academic and research-related challenges specific to mid-career faculty (i.e. moving to independent investigator status, procuring research funding, navigating the promotion and tenure process, pursuing leadership opportunities inside and outside of their home institution, etc).
Scholars will use a "text-mentoring" app to communicate with their mentor. The apps provide the mentor-mentee match with reminders, prompts, and engagements topics.
Scholars will use the University of Pittsburgh's Institute for Clinical Research Education's interactive Customized Career Development Platform (CCDP).,Scholars will use the CCDP to develop career and leadership plans which will include identifying research and career goals and leadership opportunities, set timelines, manage projects, and receive feedback from mentors.
Scholars will have the flexibility to take additional short online self-paced research courses to sharpen their research skills. This includes Clinical Research, Applied Biostatistics, Measurement in Clinical Research, and computer Methods in Clinical Research.

Institutional Impact
Scholars will conduct a leadership project, with their institutional leader, to identify a systems-level, institutional issue of importance to both the institution and to the scholars' leadership and professional development.
Scholars will present their completed projects at the end-of-program Symposium sponsored by the AAMC the following year.

Fostering Psychological Safety & Self-Efficacy
Scholars will use the results of baseline assessments that measure psychological safety, resilience, and self-efficacy to identify personal learning goals .
Scholars will participate in a culturally tailored innovative coaching series for a total of 6, one-hour virtual sessions.
Coaching topics will include
Scholars will also work in small group peer-to-peer mentoring, using this shared experience to discuss challenges and strengths practice skills, and share strategies for success.