Career Development
Building Up a Diverse Workforce for Biomedical Research
The Building Up study tests the effectiveness of a career development intervention developed at the University of Pittsburgh. Building Up is designed for postdocs and junior faculty who are underrepresented in health-related sciences on a national basis.
A total of 25 institutions across the United States varying in size and current levels of diversity have agreed to participate.
Building Up is one of eleven studies that are part of NIH's Diversity Program Consortium National Research Mentoring Network. The NRMN Scholars will participate in webinars, mentoring, coursework, and networking.
---
Leadership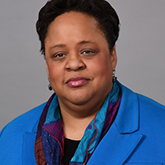 Co-Director
---
The participating institutions:
Loyola University Chicago
Massachusetts General Hospital
Medical University of South Carolina
Northwestern University Feinberg School of Medicine
Oregon Health & Science University
The Pennsylvania State University College of Medicine
Rush University Medical Center
Texas A&M College of Medicine / Texas A&M University Health Science Center
Tufts University School of Medicine / Tufts Medical Center
University of California, Davis, School of Medicine
University of Colorado School of Medicine
University of Michigan / Michigan Institute for Clinical & Health Research
University of Minnesota Medical School
University of Pennsylvania – Perelman School of Medicine
University of Southern California Keck School of Medicine
The University of Texas Health Science Center at San Antonio
University of Wisconsin School of Medicine and Public Health
Vanderbilt University Medical Center
Washington University School of Medicine in St. Louis